Cute Animals Roll Cake
How is this level of cuteness even possible? Our hearts are stolen with just a glimpse at these cute Animal Roll Cakes! If you can ever move past these adorable little faces, you will find this cake even taste better than its cute look. It's soft, moist, light as air, and filled with milky, delicious cream and a surprise star-shaped chocolate. Bring these cuties to life with Suncore Foods® Aqua Blue Spirulina, Cosmos Red Cabbage, Red Beet, Ruby Red Radish, and Yellow Goldenberry Powders. This lovely delicious roll cake will be perfect for your little ones. Enjoy!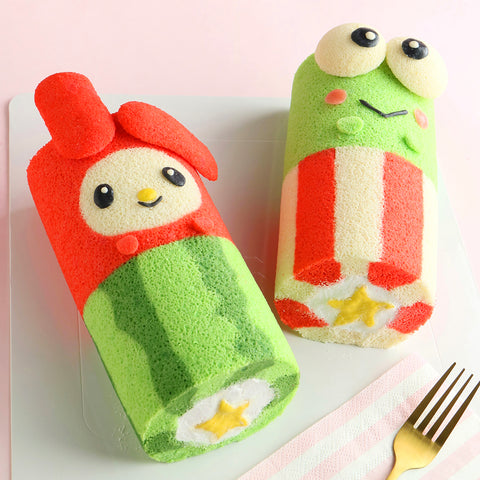 Directions
1. Whisk egg yolks with sugar, followed by oil, milk and vanilla. Add in sifted flour and whisk till well combined. Divide the batter into 2 (red) : 2 (light green) : 1 (plain) : 1 (dark green). Add food coloring and mix well. *Tip: add Suncore Foods® Aqua Blue Spirulina Powder to green to make dark green.
2. In another mixing bowl, whisk egg whites with sugar till firm peaks. Divide the meringue into as above and fold into each colored batter. Pipe the bunny and frog designs in two 8" cake pans and bake at 150C for 20 mins.
3. Whip whipping cream till medium stiff peaks. Once the roll cakes have cooled, spread the whipped cream, arrange the surprises and roll up. Decorate with chocolate and sliced cakes. Enjoy!
---