Crispy Toasted Coconut Hemp Seeds Crusted Tofu
If you love tofu and coconut then we have the perfect food for you! Made to a crispy perfection, these Crispy Toasted Coconut Crusted Tofu with some sweet chili sauce that is sure to satisfy anyone's stomach! Using Suncore Foods® Hemp Seeds helped achieve the delicious exterior colorful yumminess. These are a great addition to rice, noodles, or salads, or can be eaten just by itself!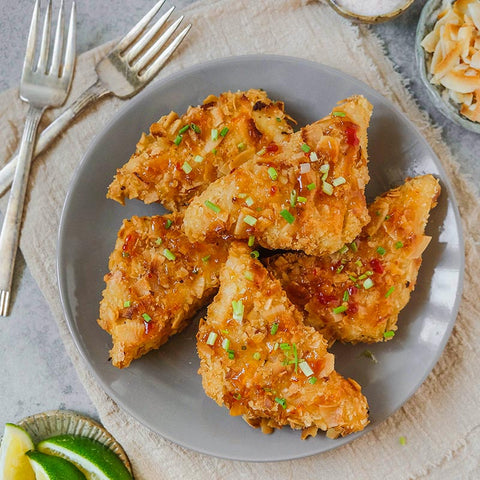 Ingredients
2 220g blocks extra firm tofu

Coating:
1 cup bread crumbs
3/4 cup coconut chips
1/5 tbsp Suncore Foods® Hemp Seeds

Batter:
1/2 cup all-purpose flour
1 tsp baking powder
3/4 tsp salt
1 tsp garlic powder
1/2 cup room temperature water

For Serving:
Sweet chili sauce
Chopped spring onions
Lime juice
Rice
Directions
1. Drain water from the tofu by wrapping them in paper towels and then placing a heavy flat surface (a board or plate) on top of each. Leave for 15 minutes until water has been absorbed by the towels. You can also opt to use a tofu press.
2. Slice each tofu into 1/2 inch thick square slabs then slice diagonally into half. You may be able to slice one tofu into 3 slabs, depending on the thickness of your tofu.
3. Prepare the batter by mixing all the ingredients until smooth. In another plate or tray, add the breadcrumbs, toasted coconut chips, and Suncore Foods® Hemp Seeds. Crushed the toasted coconut chips into smaller 1/4" pieces so they can stick better to the batter.
4. Place each tofu in the batter then coat into the breadcrumb mix. Repeat this step for the rest of the tofu.
5. Heat the oil in a frying pan. Once hot (you can test this by putting a little bread crumbs), add in the tofu. Fry for around 6-8 minutes over medium heat until golden brown. Take them out of the oil then turn off the heat.
6. Let cool for 10-15 minutes to maintain the crispness. Drizzle some sweet chili sauce or enjoy with another drip of choice. Garnish with some chopped green onions and squeeze some lime juice, if desired. Enjoy as is, with some rice, or noodles!
---