Blue Butterfly Pea Glass Noodles Salad with Chili Lemongrass Tofu
It's Friday and these Blue Butterfly Pea Noodles are the best way to add bright and fun color into an easy and simple dish perfect for celebrating the #weekend to come! Made with Suncore Foods® Blue Butterfly Pea Powder with the vermicelli noodles to simply color them into a gorgeous, cerulean blue that looks like the morning sky. Get ready to take your noodles to the next level and dig in!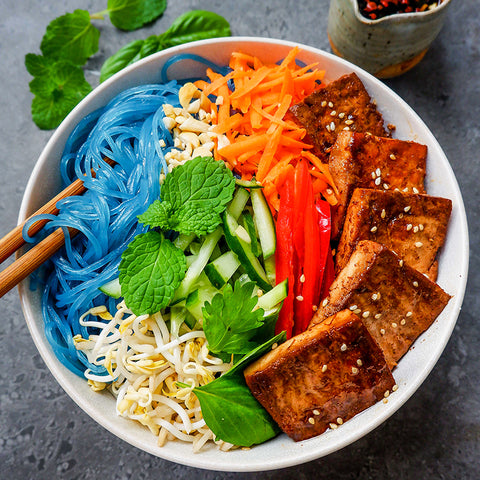 Ingredients
Vermicelli Noodles:
50g dry vermicelli noodles
1/2 tsp Suncore Foods® Blue Butterfly Pea Powder
1/4 tsp salt
1 1/2 cups boiling hot water

Dressing:
1 tbsp brown sugar or sugar of choice
2 tbsp hot water
1 tbsp rice vinegar
1 1/2 tsp lime juice
1/2 tsp chili flakes
1/4 tsp salt
1/2 tbsp soy sauce

Chili lemongrass Tofu:
2 blocks (220g each) extra firm tofu

Lemongrass Sauce:
3 tbsp soy sauce
1 1/2 tbsp coconut sugar
1 tsp sriracha
1 clove garlic, minced
2 tsp sesame oil
1 tsp lemongrass powder

For Serving:
Vermicelli noodles
Lemongrass tofu
Dressing
Sliced carrots
Cucumber
1/2 cup fresh bean sprouts
Sliced bell peppers
Fresh mint and basil leaves
Chopped peanuts
Directions
1. In a heat proof bowl, add in the dried vermicelli, Suncore Foods® Blue Butterfly Pea Powder, and salt. Pour the boiling hot water over the noodles. Mix. Cover with a plate or heat proof lid. After 2 minutes, mix the noodles to slowly separate them. Leave for 8-10 minutes or until noodles are cooked to your liking. Drain the liquid and leave the noodles to cool.
2. In a heat proof bowl, add in the sugar. Pour the water and then mix until the sugar is diluted. Add in the rest of the ingredients and mix well. Feel free to adjust seasoning based on your desired taste.
3. Heat oven to 350ºF. I use an oven toaster with temperature settings. Drain excess liquid from the tofu by wrapping in a towel and pressing with a heavy surface. Slice the tofu into squares. Feel free to slice depending on your desired shape. Mix the sauce the ingredient together. Dip each slice of tofu in the marinade. Place the tofu on a lined baking tray. Pour the remaining marinade over the tofu. Leave to baked for 35-40 minutes, flipping tofu halfway through, until tofu is cooked and marinade has been absorbed.
4. Assemble bowl by placing the noodles, tofu, veggies, and peanuts. Drizzle the dressing and mix everything together to enjoy!
---