Blue Butterfly Pea Boba Pearl Balls
Scoop generously, decorate your drink or dessert, and taste the magical fun Blue Butterfly Pea Boba Pearl Balls to start the weekend with a dream come true! Scrumptiously chewy and colored using our Suncore Foods® Blue Butterfly Pea Powder. Make them yourself in any color of the rainbow using our powders & wishing everyone a blissful weekend!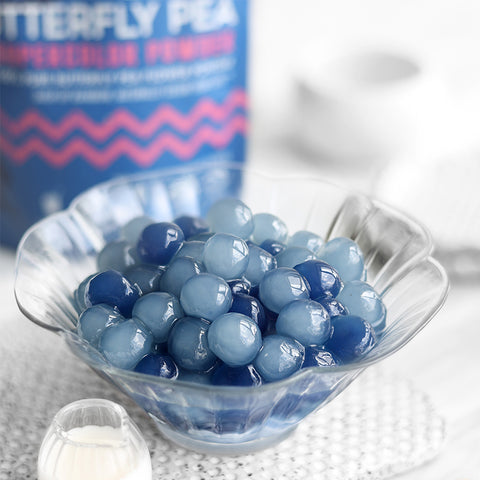 Directions
1. Place tapioca starch and Suncore Foods® Blue Butterfly Pea Powder into a bowl. Set aside.
2. Bring water and sugar to a boil. (Water must be hot or the mixture will not form). Add 1 tablespoon of the tapioca and butterfly pea powder mixture and stir until well combined and no lumps. Turn on the heat to medium, stir until boiling and thicken. Stir the hot mixture quickly into the tapioca butterfly pea mixture with a pair of chopsticks. Mix well.

3. Transfer dough on a lightly tapioca floured surface, knead the dough until it becomes uniform, soft and elastic. Add more tapioca starch if needed.

4. Roll out dough into a square shape. Cut into small cubes and roll each into a ball. Lightly dust balls with tapioca flour.

5. In a medium pot, boil enough water to cover the tapioca balls. Add the tapioca balls into the water. Stirring to prevent sticking. Let boil until tapioca balls float to the top. Reduce the heat low, cover with lid and let simmer for 15 minutes. Turn off the heat, keep the lid on, let sit for 10 minutes. Drain the tapioca pearls, stir in 2 tablespoons of sugar of choice to the warm pearls to prevent sticking. Add them to your favorite milk tea or coffee and serve.
---