Rainbow Tart Slices
Who doesn't want to eat rainbows?? These Rainbow Tart Slices have us grabbing for more than we can hold in our mouths! Incorporated Suncore Foods® Red Beet, Blue Butterfly Pea, and Midori Jade Matcha Powders for these gorgeous rainbow layers. And look at that yummy chocolate drizzle!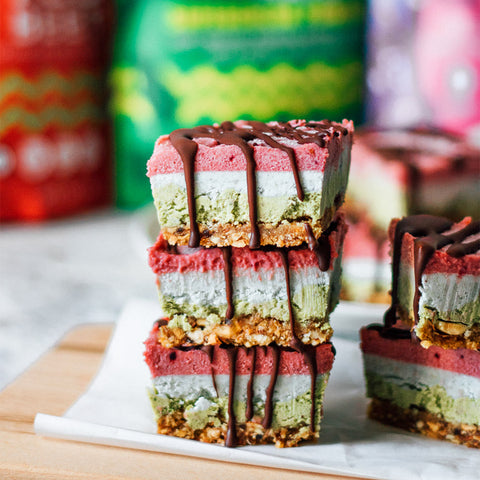 Directions
1. Begin by blending the base in a blender - the almonds, dates and salt until chunky but not too smooth. Evenly distribute it and press down on the bottom of your container/mold as the base. Place in the freezer while you make the filling.
2. Blend the fillings until nice and smooth. Divide into 3 bowls and to one bowl, add the Suncore Foods® Red Beet Powder, another with Suncore Foods® Midori Jade Matcha Powder and another with the Suncore Foods® Butterfly Pea Flowers infused water. Mix. Begin by layering the green layer first, freezing for 5-10 minutes, before adding on the blue layer, then the red layer. Enjoy!
---