Shipping Insurance
ShopWill | In stock
.....
---
---
Special Recipe
Ingredients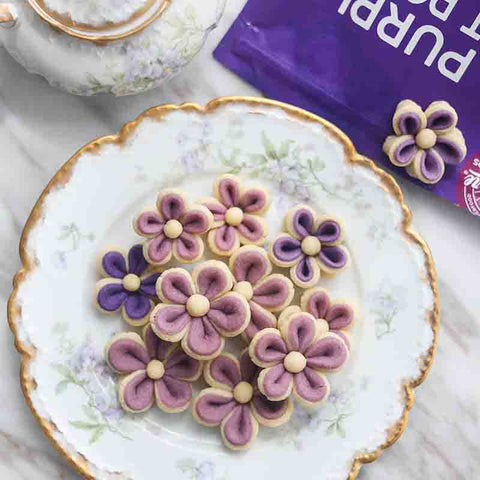 Directions
Purple Sweet Potato Flower Cookies
1. Beat the butter, vanilla extract and icing sugar until creamy. Sift the flour, and add it to the butter mixture. Mix on low for 30 seconds, add the milk, vanilla and mix until you get a uniform dough (do not over mix), add more milk if needed. Wrap each cookie dough with cling wrap and refrigerate for 20 minutes.
2. Divide dough into two. Color and half dough with dissolved Suncore Foods® Purple Sweet Potato Powder. Roll out the dough and cut using a cookie cutter.
3. Shape the cookies. Place cookies back in the fridge for 15 mins before baking.
4. Preheat the oven to 170c. Bake cookies for 15-17 minutes. Allow cookies to cool completely.
---
Similar Products
Please, add this product to Collection to show a similar products within Collection