Shipping Insurance
ShopWill | In stock
.....
---
---
Special Recipe
Ingredients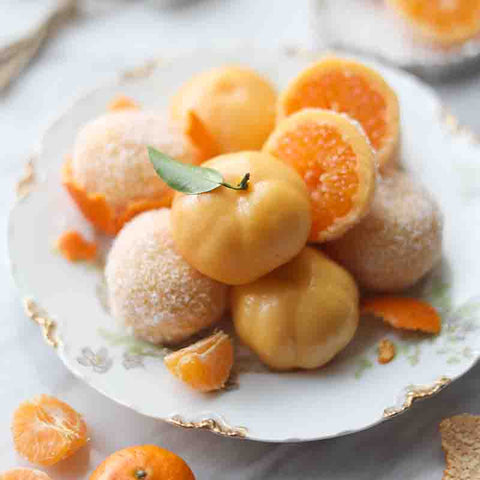 Directions
Happy Sweet Tangerine Mochi
1. In a large bowl add all ingredients except for butter. Whisk until smooth. Pass the mixture through a strainer to remove any lumps. Pour mixture to a a microwave bowl. Cover with plastic wrap, pop holes on the plastic with toothpick. Put the bowl into a microwave, heat it up for 1 min. Take the bowl out and stir the mixture around with a heatproof spatula. Back into the microwave and heat it up for 1 min. Remove the bowl from the microwave. Keep stirring with the heatproof spatula, back into the microwave and heat it up for 1 min, keep stirring until it thickens. Add the soften butter while the mochi mixture is still a little warm. Knead the mixture until smooth. Allow to cool completely.
2. Take a small piece of dough. Flatten mochi dough and put the tangerine on top of it. Wrap it with pinching the bottom closed.
3. Wrap each individual piece of mochi in plastic wrap. Keep in a container and place it in the fridge to keep it from drying out.
---
Similar Products
Please, add this product to Collection to show a similar products within Collection