Halloween Jack-O-Lantern and Ghost Meringue Cookies
Happy Hallow's Eve Eve! We hope you're all prepped and ready for this upcoming holiday. If not, here is a shockingly easy halloween recipe you can whip up in a jiffy that are sure to impress all your friends at your Halloween gathering. These little jack-o-lantern and ghost meringue cookies are undeniably cute and simple to make! These little melt-in-your-mouth swirls of sweet egg white cookies are crisp and delicate with an amazing marshmallow flavor. Pop in some Suncore Foods® Red Beet and Yellow Goldenberry Powders, and you can pipe the perfect little pumpkins to join your gang of ghosts! And if these cookies couldn't get any cuter, add some facial features with some dark chocolate! Have a safe Halloween everybody!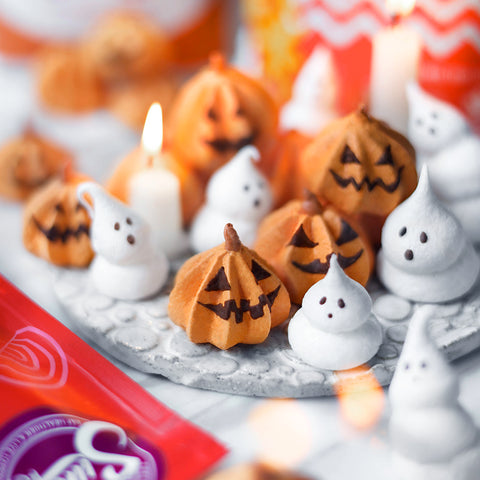 Directions
1. Preheat the oven to 110c. Line a baking tray with greaseproof paper.
2. Clean bowl and whisker using kitchen towel with a little bit of vinegar. Place
the aquafaba and cream of tartar into the bowl of an electric mixer.
3. Whisk for 5 mins until it's double in size and foamy. Slowly add powdered
sugar, one tablespoon at the time. whisking until the mixture forms stiff,
glossy peaks (15 mins). Add dissolved Suncore Foods® Red Beet Powder & Suncore Foods® Yellow Goldenberry Powder and whisk to combine.
4. Transfer the meringue mixture into a icing bag with a star tip. Bake for 2 hrs. (meringue might take a little longer to dry if they are bigger) Take them out of the oven, let them cool, decorate with dark chocolate. Store in a dry place so they maintain their shape.
---